There are definite reasons why producers from across the globe look to Bomas for machining of advanced ceramics and composite materials. At the core of these reasons, is Bomas consistency.
"We have worked with Bomas for over 20 years. We consistently come back because their work is always consistent from process to process and part to part. We demand a lot, and consistency is at the top of our list."
Quality Control Supervisor, Aerospace Industry, West Coast
Responsiveness is another reason. At Bomas, we take our role in your project very seriously. We understand the need for prompt response to your requests for quotes and for answers to any question during the process; and, especially your requirement for on-time delivery. These are intangibles perhaps, but at Bomas they are an integral part of our daily work. That's the value added aspect of a relationship with us.
"It isn't every company that goes to the lengths of personal caring (for us and our materials) that I find so reassuring with Bomas."
Graduate Assistant, West Coast R&D University
Troubleshooting is also a service that customers value in a Bomas partnership. Many times we work direct from your explicit plans, but often we are called upon for input as to which machining process is best suited for a particular outcome. We are happy to do that and will send a part to you prior to final machining for your test and approval. We also provide digital photography by email so you can follow quality control progress at various stages of production.
"We recently required several fixtures to test various samples and specimens. We had plans designed but when the project came to fruition several new structural issues developed. Bomas provided innovative advice and when we tweaked our existing designs, the fixtures they produced for us were perfect."
Structural Engineer, Gulf Coast Testing Laboratory
Another major consideration that producers share as Bomas customers is our constant attempt to save you money. Cost is always a factor in any R&D project and we understand that. Bomas has an enviable reputation for repeat business from our customers because engineers trust our performance and buyers trust our pricing.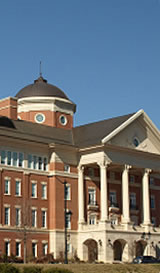 Research Universities